Electro Galvanized Wire 0.7-6mm Q195 Quality
Galvanized wire is processed from Q195 carbon steel rod. According to the zinc coating processing, galvanized wire is divided into Electro (cold) Galvanized and Hot Dip (thermal) Galvanized. Simplified as GI wire and HDG wire.

Electro Galvanized Iron Wire is also known as electric galvanized wire.
Wire diameter ranges from 0.14mm to 5.0mm.
Forms of supply: coils, spools, U type or straightened and cut into tie wire.
Electric galvanised wire is widely used as binding wire, stitching wire, electric fencing wire, spring wire, pc wire, nail wire, tie wire and mesh weaving wire. Zinc coating for Electro Galvanized Iron Wire: about 8gram to 12gram.

Processing

Standard processes under careful quality control:
Steel rod coil, wire drawing, rust removing, acid washing, galvanizing, ( wire redrawing), cooling, spool winding, cutting, u type bending, etc..

Major Products ( Classified according to wire sizes and packing forms)
We offer the following galvanized wire for various industrial uses. Product images listed below.
Materials: High, medium and low carbon steel wire.

11 Gauge Galvanized High Tensile Baling Wire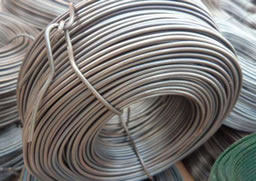 Extra High Tensile baling wire,
used in two ram baler (25 tons/hour)
to bale the municipal solid waste.
Size: 11 GA, diameter 0.120 inch
Finish: Galvanized & annealed
Feet / lb: 26.0
Super high tensile 1650
Ultra high tensile strength 2175
High Tensile Redrawing Galvanized Wire
Processing: Redrawing and electric galvanizeded
Feature: Excellent tensile strength and flexibility
Gauge: BWG11 to 34
Wire diameter: 3.00 mm to 0.20 mm.
Packing: in coils.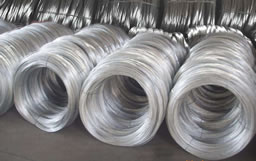 BWG 11 Redrawing galvanized wire,
used for brush wire, hose wire, mesh weaving wire.

Galvanised Steel Spring Wire ( High Carbon Steel )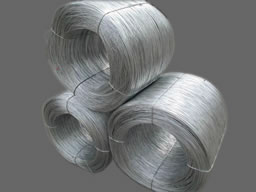 Spring wire
High carbon steel wire with electro zinc plating
Size 0.15mm to 12mm

PC Strand Wire
Pre-stressed steel wire strands
Designed for concrete constructions
Simplied as PC wire or PC strand.
Specifications:1x7x12, 1x7x15, 1x7x17.8

Illustrated model: PC Strand, stranded structure 1X7
of high tensile carbon steel, galvanized finish
Nominal wire diameter 0.4 to 0.6 mm. ± 0.02mm
Packed in 800mm x 600mm reels.
High Pressure Hose Reinforcing Wire
Quality: BS, ASTM, EN, IEC or customers' specific specifications
Forms: Spool wires, flat wires, round wires, stranded wires or copper coated steel wires.
Wire Diameter: 0.18mm to 2.00mm.
Steel Wire Tensile Strength: 2150-2450,2450-2750,2750-3050N/mm2.
Application: Reinforcing of high pressure rubber hoses.
Staple Wire ( Stitching Wire)



Galvanized iron wire 0.40 mm to 1.00 mm,
used for making of staple or stitching wire.
Forms of supply: Round or flat section wire
Finish: Galvanized or copper coated iron wire.
Packing in 2 kilo plastic reels, 3 1/2 kilo reels,
10 kilo reels, 15 kilo reels, or 100 kilos spools.
PVC Coated Electro Galvanized Wire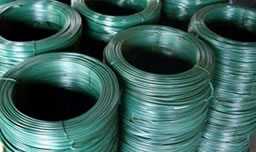 BWG#18 (1.2mm/2.0mm) PVC Coated Wire
Used for Mesh Wire
Inner wire electro galvanized
Packed in 8KG per Roll

GI Wire Specification ( SWG, BWG and Metric Size)
| | | | |
| --- | --- | --- | --- |
| Wire Gauge | SWG(mm) | BWG(mm) | Metric(mm) |
| 8 | 4.06 | 4.19 | 4.00 |
| 9 | 3.66 | 3.76 | - |
| 10 | 3.25 | 3.40 | 3.50 |
| 11 | 2.95 | 3.05 | 3.00 |
| 12 | 2.64 | 2.77 | 2.80 |
| 13 | 2.34 | 2.41 | 2.50 |
| 14 | 2.03 | 2.11 | - |
| 15 | 1.83 | 1.83 | 1.80 |
| 16 | 1.63 | 1.65 | 1.65 |
| 17 | 1.42 | 1.47 | 1.40 |
| 18 | 1.22 | 1.25 | 1.20 |
| 19 | 1.02 | 1.07 | 1.00 |
| 20 | 0.91 | 0.89 | 0.90 |
| 21 | 0.81 | 0.813 | 0.80 |
| 22 | 0.71 | 0.711 | 0.70 |
Technical Data Sheet of Galvanized Wire ( Low Carbon Steel Material)
Wire
Material
Chemical Contents
Wire
Diameter
Heat
Treatment
Tensile Strength
Surface
Bundle
Electric
Galvanized Wire 16 Gauge
Low
Carbon
Steel wire
Carbon < 0.08%
Manganese < 0.6%
Phosphorus < 0.045%
Sulfur < 0.045%
0.059 inch
16Ga
Annealed
41336 ~ 52939
(lb/in2)
Electric Galvanizing with averages 3.54
micro zinc
Coil max.
150 kg