Hot Dipped Galvanized Steel Wire, High Tensile Soft quality
HDG wire is processed from iron wire / carbon steel wire through hot dip zinc bathing process. The zinc bathed galvanized wire enjoy excellent rust-proof, flexibility and softness. Suitable for binding and further processing into various fencing and mesh products. Major zinc coating quality can be 100g/m2, 200g/m2 and 300g/m2.

Processing
Production Process of Hot-dipped Galvanized Iron Wire:
Steel rod coil -- wire drawing -- rust removing -- acid washing -- thermal zinc plating -- (re-drawing) --wire coiling.
Zinc coating: About 40gram - 300 gram ( Custom zinc coating amount available for specific orders).
Forms of supply: Coil wire, spool wire

Major Products ( Classified according to wire sizes and packing forms )
BWG 14 hot dipped galvanized wire
Hot dipped galvanized iron wire for hanger production in 200 Kg rolls,13.5, 14, 14.5 and 15 gauge.
Galvanized iron wire (hot dipped,Tensile strength around 700 N/mm2 ), diameter 1,75mm, packed in 100 kg/roll
Galvanized iron wire hot dipped diameter 1,95mm (100 kg/roll)
Hot Dipped Galvanized Wire 24 SWG and Soft for making wire mesh ( gabions and welded mesh).
Hot dipped galvanized wire Q195, diameter 4.0mm, zinc coating 100gr/m2, package in 25kg/coils
Heavy Galvanized Bales Ties, Wire sizes - 11, 12, 13, 14 and 14.5 gauge.
PVC coated hot dipped galvanized wire, BWG#18 (1.2mm/2.0mm), packed in 8kg per roll
Galvanized Wire, Zinc Bathed Galvanized (Not Electro-Galvanized), 0.125, 0.162, 0.187, 0.225, 0.243, 0.250, 0.312, 0.375 inch, packed on carriers.
Hot dipped Galvanized Iron Binding Wire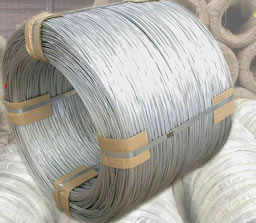 Hot Dip zinc bathed wire
Tensile strength:38-55kgs/m2
Zinc plating:>300g/m2
Wire diameter 2.70mm
Packed in 500kgs/coil.
HDG Low Carbon Iron Wire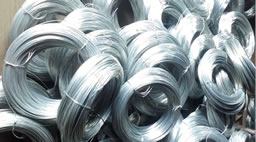 Wire diameter: 0.7-6mm
Material: low carbon steel
High Tensile Wire
High tensile hot dipped galvanized iron wire
Gauge BWG6, BWG8, BWG14
Packed in coils or rolls one end
Specification Details:

1) Tensile strength: soft (650-850N/mm2)
2) Coating: 40-50/grm2 Zn Hot Dipped
3) Packing: in Coil 300-500 kg one end
4) Quality assurance: Mill Test Certificate
Hot Dipped Galvanised Wire for Gabions

Gabions wire material: Galvanized steel wire
Wire diameter: min. 2.00 mm
Zinc coating of min. 240 g/m2
Gabion mesh size : 60X80 mm in oblong welded mesh structure
Hot Dip Galv. Fencing Wire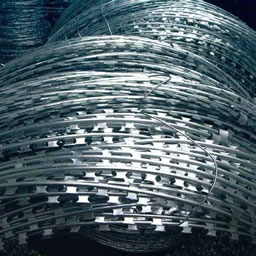 Concertina razor wire, Blade BTO-22
Packing: 30 loops packed in a coil,
coil dia. 400mm, supplied with Clips and handles.
Gauges Applied for Hot Dip Zinc Plated / Bathed Wire (SWG, BWG, AWG)
Wire gauge code
SWG (British Wire Gauge Code)
BWG (Birmingham Wire Gauge Code)
AWG ( American Wire Gauge Code)
in
mm
in
mm
in
mm
3
0.252
6.401
0.259
6.58
0.229
5.83
4
0.232
5.893
0.238
6.05
0.204
5.19
5
0.212
5.385
0.22
5.59
0.182
4.62
6
0.192
4.877
0.203
5.16
0.162
4.11
7
0.176
4.47
0.18
4.57
0.144
3.67
8
0.16
4.064
0.165
4.19
0.129
3.26
9
0.144
3.658
0.148
3.76
0.114
2.91
10
0.128
3.251
0.134
3.4
0.102
2.59
11
0.116
2.946
0.12
3.05
0.091
2.3
12
0.104
2.642
0.109
2.77
0.081
2.05
13
0.092
2.337
0.095
2.41
0.072
1.83
14
80
2.032
0.083
2.11
0.064
1.63
15
0.072
1.829
0.072
1.83
0.057
1.45
16
0.064
1.626
0.065
1.65
0.051
1.29
17
0.056
1.422
0.058
1.47
0.045
1.15
18
0.048
1.219
0.049
1.24
0.04
1.02
19
0.04
1.016
0.042
1.07
0.036
0.91
20
0.036
0.914
0.035
0.89
0.032
0.812
21
0.032
0.813
0.032
0.81
0.028
0.723
22
0.028
0.711
0.028
0.71
0.025
0.644
23
0.024
0.61
0.025
0.64
0.023
0.573
24
0.022
0.559
0.022
0.56
0.02
0.511
25
0.02
0.508
0.02
0.51
0.018
0.455
26
0.018
0.457
0.018
0.46
0.016
0.405
27
0.016
0.417
0.016
0.41
0.014
0.361
28
0.015
0.376
0.014
0.36
0.013
0.321
29
0.014
0.345
0.013
0.33
0.011
0.286
30
0.012
0.315
0.012
0.3
0.01
0.255
31
0.012
0.295
0.01
0.25
0.009
0.227
32
0.011
0.274
0.009
0.23
0.008
0.202
33
0.01
0.254
0.008
0.2
0.007
0.18
34
0.009
0.234
0.007
0.18
0.006
0.16
35
0.008
0.213
0.005
0.13
0.006
0.143
36
0.008
0.193
0.004
0.1
0.005
0.127
(Note: The amount of zinc applied for hot dipped wire is generally controlled in the range of 40 g/m2 to 300 g/m2 depending on the requirements of the work environment. )