Oil Painted Black Iron Wire And White Iron Wire
We supply non galvanized oiled iron wire in mainly two types: black wire and white wire. Wire diameters supplied ranging from 1.6mm to 5.5mm.
Oil Painted Black Iron Wire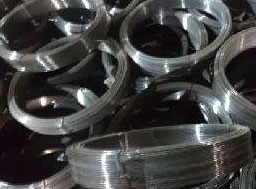 Material: Iron wire or mild steel wire.
Forms offered: Coil wire, tie wire or cut into straight wire.
Uses: Black iron wire is mostly used as binding wire or tie wire.
Non Galvanised White Iron Wire
Non-galvanised iron wire, oiled for rust proof treatment.
Quality: Guaranteed six month non-rusting.
Uses: Mainly used as industrial wire and construction wire: industrial bale ties and constructional tie wire.