A Quick Look of Our Well Sold Products for International Importers, Distributors and Wholesalers
We mainly export:
Annealed wire (Bright or dark annealed);
Galvanised wire ( electric galv. or hot dipped galvanised);
Oiling iron wire ( black iron wire or oiled white iron wire);
Galfan wire ( Hot dipped galfan coated or further pvc coated);
Pvc coated wire ( Galvanized core wire or galfan core wire).
U wire
Cut wire
Double loop wire
Twisted ties
Quick link wire
Coil wire
Small coils
Box wire
Stick wire
Spool wire
Orbit coils
Bundles
Bar ties
Binding wire
Auto bale ties
Cotton baling wire
Hay baling wire
Wool sack baling wire
Corrugated cardboard packaging wire
Garden tying and daily packing
Bright Annealed Wire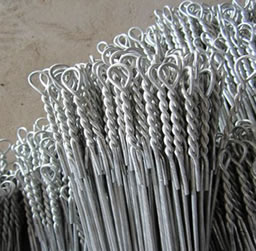 Single Loop Bale ties
Black Annealed Box Wire - 100 Lb boxes
Bailing wire, diameter: 1.625mm, material: dark annealed steel wire
Black Annealed Baling Wire Coils
Available in 10, 11, 12 gauge
Packed in 50lb and 100lb coils in boxes, or in carriers on 1,500 lb. returnable carriers.
For automatic baling machine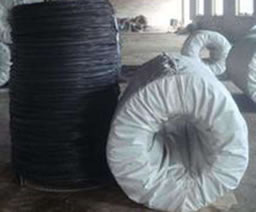 Fully Annealed Baling Wire
Wire, baling, in 450m length, diameter 2.64mm, in 20kg rolls
16 Gauge Tie Wire ( Spool Wire)
Tie Wire, 16 Gauge, Annealed treatment, packed in 1lb Spools.
Baling Wire 16 ga., Bare Wire Finish
50 to 100 lbs spooled wire
0.0055" black annealed iron wire
2.5mm black annealed wire (Tying 25kg - 3 Ton)
Tie Wire Dispenser Box

Tie Wire (Twist Ties)
Length: 6 inch to 8 inch

10 GA Wire
Wire diameter 0.135, 126 inch length
16 ga Annealed Steel Wire
6in, 8in, 10in, 12in, 16in, each in bundles of 5,000 pcs
Quality: USA export
16 ga. Black Annealed Rebar Tie Wire
Packed in 3.5lb each roll in 20pcs in box
Annealed Wire Tie Wire
Wire dia: 16.5 gauge ( AWG 16.5 gauge = 1.47mm)
Packing: 3.5lbs per roll, packed 20-rolls per carton.
Box Wire

1.4mm Annealed bar tie coils
Boxed wire
Packing: 10 coils per box, 64 boxes per pallet.
Black Annealed Tie Wire 1.5mm Diameter

1.60 mm thickness
Wire diameter tolerance: +-0.04mm
Packed in 10kg per roll
In hessian wrap


Soft Annealed Wire
Soft annealed iron wire or oxygen-free annealed wire.
The tensile strength is 300-400 Newton per square millimeter.
Wire diameter ranges from 0.70mm to 4mm.

Small Coil Tie Wire
Small coil wire tie finds most uses in binding of different materials, especially for daily use.
U Type Iron Wire
Materials: Galvanized iron wire, hot-dipped galvanized iron wire or black iron wire.
Galvanized Binding Wire
Gauge: BWG8# to BWG16#, or BWG5# to BWG28# upon specific order.
Galvanised Rebar Tying Wire, Size: 1mm in diameter
Galvanized and black iron wire for wire hanger production in 200 Kg rolls,13.5, 14, 14.5 and 15 gauge.