Cut and Double Looped Rebar Tie Wire
We export rebar wire ties to North America, Europe and many countries. Used for tying steel bars in concrete constructions.
Processing
Processing involved: Galvanizing, annealing, pvc coating, winding and coiling, straightening & cutting, looping.
Finished Forms: Straight cut wire, wire coils / rolls, looped wire.
Major Products ( Classified according to wire sizes and packing forms)
We supply:
0.8 mm rebar tie wire
1.2mm iron wire galvanized tie wire for rebar
20 coils- black annealed 16 gauge rebar tie wire
Small coils rebar tie wire, black or galvanized tying wire, 3.5lbs
16-gauge wire loop bar ties
Double loop tie wire black annealed twisted tying wire
Black annealed tie wire 1.5mm
BWG 16 gauge - 1.60mm thickness in 10kg rolls, diameter tolerance +-0.04mm

Black Annealed Tie Wire in Rolls 3.25lb, 50lb, 100lb
Designed for binding of reinforcing bar structures
Tie Wire in 3.25lb per roll, 20rolls/box: 16GA & 16.5GA.
Tie Wire in 100lb per roll: 9-10GA, 12.5GA, 16GA
Tie Wire 100lb/roll: 11-12GA
Tie Wire 50lb/roll: 9-10GA
Tie Wire 50lb/roll: 11-12GA

Material: Black Iron Wire, soft annealing
Size: 16 inch double loop rebar wire ties, also 6" and 8" double loop.
Packing: 3.5lbs per roll, packed 20-rolls per carton, 70-lbs net per carton.
Galvanizing type straightened cut tie wire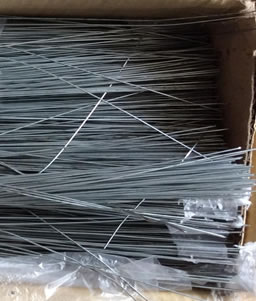 Annealed and Galvanized cut to size, for tying rebar
Sizes and Packing: Wire diameter 1mm x 400mm cut length, 20 Kg per box;  
1mm wire diameter x 500mm cut length, 20 Kg per box.

PVC coated wire with looped ends
PVC coated rebar ties
Type: double looped tie wire
Size: 1.4 mm wire
Material: Black annealed wire with pvc coating - N18 - innder wire diameter1.24mm)
Export to Chile
Packed in 1.2 kg rolls
Packing:
Bundle of 9 inch 18 gauge annealed steel black double looped wire tie