Black Annealed U Shaped Tie Wire
U type tie wire is made from galvanized wire or black annealed iron wire, mainly for rebar binding uses.
U shape cut and bending wire gauge ranges from 18# to 22# (wire diameter from 0.7mm to 1.2mm). Custom sizes available.

Processing
Wire drawing, thermal annealing, cutting, bending, packing.
Major Products ( Classified according to wire sizes and packing forms)
U Wire, Galvanized and Black Annealed Quality

Processed from fine low carbon black wire for daily bundling and rebar tying.
Material: Low carbom Q235/Q195
Finish: Black annealed
Wire Diameter: 21Ga-14Ga BWG
Cut Length: 20-70cm
Packing: 1 x 20 ft container with rust proof treatment.
U Bending Wire, Galvanized and PVC Coated Galvanised Quality
Galvanized U type binding wire
Hot Dipped Galvanized Finish or PVC coated Galvanized Wire Finish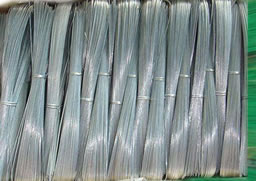 Galvanized iron U type binding wire, for construction binding
U Shape Wire, Galvanized and Black Non Galvanised Quality