Agricultural Baling Wire
Annealed wires with black oxide finish are commonly used in baling of agricultural and industrial materials. For cotton and hay, woven sack, polyethilene film waste, corrugated cardboard, cartons, waste papers auto baling procedure in the recycling industry. Export to European countries.
Processing
The annealed wire goes through cutting, bending, looping, twisting or winding.
Finished Forms: Coils, cut and looped with single or double loop.

Major Products ( Classfied according to wire sizes and packing forms)
Black Soft Annealed Baling Wire in approx.1000 kg Orbit Coils
Packing: Big coils 1000kg, wrapped in plastic and securely strapped with six (6) straps.
Wire Diameter: 3.15mm.
Black Soft Annealed Preformed – Pre Cut Double Loop Ends Baling Wire Ties
Size: Wire Diameter: 3.50mm –
Wire Tie Length: 4600m.
Packing: In bundles of 100 per Carton.
Single Loop Baling Wire Ties,
Galvanized and Black Annealed


Cut baling wire with twisted looped ends:
galvanized and annealed, cut length 6 m, wire diamater 3mm
Cut and looped baling wire black annealed: 3.3mm x 4800mm
Cut and looped baling wire black annealed: 3.1mm x 4300mm
Wire sizes: 11, 12, 13 and 14 gauge
Packing: Pallet package with easy dispensing of one bundle at one time for auto baling machines
Black Annealed Oiled Tie Wire,
Designed for Plastic & Carton Baling Press Machine
Box Wire:
Diameter: 0.135 inch, 0.12 inch, 0.10 inch, oiled wire
Packing:100 lb. coils packaged in cartons / boxes, 36 boxes to a pallet.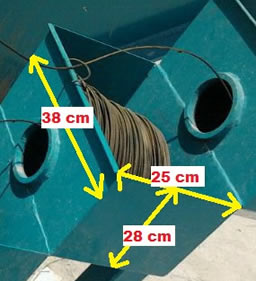 Wire feeding stand
Automatic Baling Wire Dark Annealed
Designed for Baling of Waste Cardboard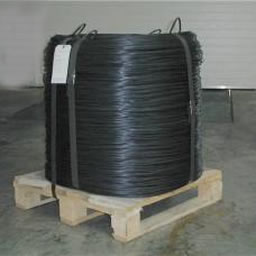 Material: Low Carbon, Soft Annealed.
Quality - C 1.0010 to DIN 17007
Analysis: Carbon     – C - < 0.100%,
Phosphorus – P - < 0.095% Max.,
Sulphur    - S - < 0.080% Max.
Tensile Strength:   350 - 450 N/mm2.
Elongation: 12% at 254mm.
Diameter Tolerance:  + /- 0.04mm.
Quantity Tolerance:  + /- 0.5%.
Quantity tolerance per spool: + 3%/ - Nil%.   
Surface: Black and slightly oiled.
Packing Option:  
a) In Spooless Cores of approx 40 - 50 kg rolls. 
Core size: OD – 336mm, ID – 208mm, Height – 152mm
Packed in cartons, strapped onto a wooden Pallet
b) On continuous length Orbit Coils each approx 900 - 1,000 kg,
securely strapped with six (6) straps,
then wrapped with plastic and placed on a carrier.
Orbit Coil  dimensions: OD 900mm, ID 500mm, Height 152mm.
Cotton Baling Wire

Manufactured for Portugal Market
Material: bright annealed wire
Sizes: 1.0 mm x120mm, 1.0 mm x160mm, 1.0 mm x200mm
Packing: In bundles of 1000pcs then in wood europallets,
with top wood board well fastened with strapping and protected with sea packing.
Hay Baling Wire


For balers of hay, wheat, sorghum, corn alfalfa.
Quality: Meets ASTM A853 Standards.
Size: 14 1/2 gauge, minimum 6500 linear feet.
Box weight: 100 lbs
Coil wire, oil lubricated, plastic strapped, then in cardboard packing.